View this email in your browser
Your monthly source for the latest Denver Area real estate news.
Wow! Where did summer go?
No kidding right? Summer arrives in June, and then a day later, it's fall. What's up with that? I like fall in Colorado so much, it never really bothers me, but during those cold dark days of December of January, it's another story.
What did we do this summer? It seems like every second was filled this summer. Nothing else slows the whole world down more than rocking with a grandchild on one's lap. I we did a lot of this. I heard, "One's children are the rainbow of life, but one's grandchildren are the pot of gold at the end of the rainbow". I joined an investment club. Having been in a couple of other clubs. It's fun getting out once a month and discussing the benefits of owning shares of great companies. For me, it's very exciting.
Dee and Caroline, with Andrew this year, rode the Triple-by-Pass for the 6th straight year. I'm always amazed at the feat of riding a bike 120 miles in a day. We celebrated Cordelia's 1st Birthday. Cordie, one of the "identical
cousins" celebrated #1. This takes on great meaning when you read the rest of this. Colette's is coming up very shortly. Will and I attended the Land Rover National Rally. This is always fun.
We ran great trails in the San Juan Range with great friends and new friends. Funny how Britsh built slabs of Aloy and Grit bring people together from all corners of the earth to enjoy a hobby. Dee and I attended the Joe Bonamassa concert at Red Rocks. Every
year, we have a tradition of hitting Red Rocks. I took Dee to see Joe. A consumate blues guitarist with a little bit of an Eric Clapton sound. It looked sold out to me. She's choosing the artist for 2020! The entire Cryer side of Dee's family visited Cape Cod for Aunt
Madeline's 100th birthday. Madeline had some words of wisdom for me. She told me the hardest part of living such a long life, "I've outlived all my friends". She loves the little ones, she loves to smile, she loves her faith and family. A remarkable woman, and we are all very proud for this opportunity. 100 Years!!! I started the DEA's Citizens Academy this month. I've attended several citizens academies as some of you know. I'm really enjoying it, and will give you a full review when finished.
Last week our Kentwood DTC office had its Vail Retreat. Like so many years in the past, taking time to meet the new people and catch up with the long termers is always fun. Dee was able to get one more ride up Vail pass (both ways), so maybe two more rides up Vail Pass. I went on a wonderful hike. The aspen trees are starting their thing.
Summer might be over, but we are still enjoying life! As I prepare for my audition as
Santa Claus, I take lots of grief from the youngsters in the office. In then end, I believe, Cordie and Letie will thank me for my efforts. Dee tells me, it's gone my 01/01/2020!!!
Questions to Ask Your Realtor When Relocating to Colorado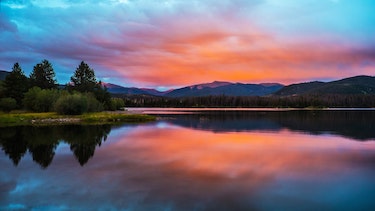 Whether it's the 300 days of sunshine per year, close proximity to the Rocky Mountains, the thriving economy, or the vibrant arts and entertainment culture, it's easy to see why Denver, Colorado has been one of the fastest-growing cities in the United States for the last several years. Read More >>
Real Estate Market Trends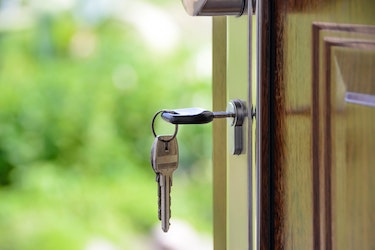 Uncertainty categorizes the nation's overall economic climate. But what does it mean for Realtors® and their clients in Denver-area's housing market? Global growth and business confidence are down while consumer spending remains up. Read More >>
Where to Watch the Broncos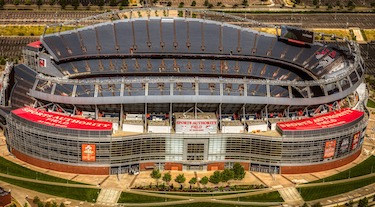 After a long hot summer, the temperatures are finally starting to simmer down. With the start of Fall come many of our favorite things, including, of course, the colors! On the streets, in restaurants, at the malls — everywhere you look — there are vibrant oranges and boisterous blues. Blues? Read More >>
Market Snapshot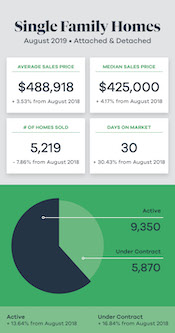 Market Movers
Park Hill hotel could be turned into micro-affordable housing. A Quality Inn & Suites at E. 36th Avenue and Quebec Street could be turned into 139 affordable housing units. With the exception of a few updates and a new sprinkler system, the rooms are move-in ready.

Denver Museum of Nature and Science now has an exhibit that will make you feel like you've base jumped off a mountain. The exhibit "Extreme Sports: beyond Human Limits" will run through April.

The first day of fall is right around the corner, which means leaf-peeping is only a few weeks away! Experts say leaf-peeping is supposed to be amazing this year due to the above average moisture last winter and spring created.
Testimonial
This is my 3rd transaction with Dee and Tom Cryer. They are top notch and truly experts in their field. Honest, trustworthy, and knowledgeable beyond belief. I credit them for making me an informed consumer in real estate matters. Would recommend them to anyone. They are my realtors for life!!! Sincerely Christina Aldridge
-Christina
Kentwood Real Estate
4949 South Niagara Street #400
Denver , CO 80237
720-330-8888
©2019 Kentwood Real Estate
If your property is listed with a real estate broker, please disregard. It is not our intention to solicit the offerings of other real estate brokers. We are happy to work with them and cooperate fully. You are receiving this email as a current or former client of Kentwood Real Estate or one of its associates.